Reading Curriculum
Your Homeschool, Your Way™. From the creators of ABCmouse®.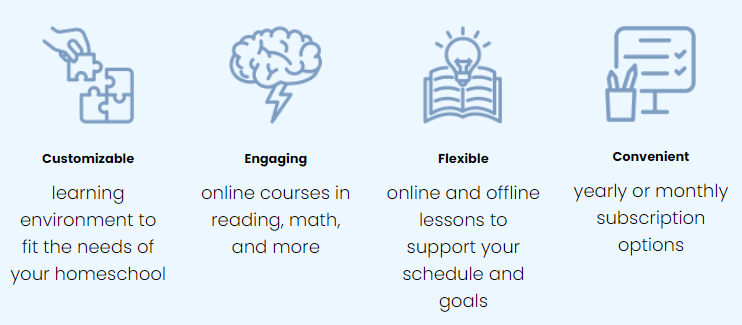 An Adaptive Reading Curriculum for Your Homeschool
Finding a robust reading curriculum is a high priority for home educators. When exploring the many reading programs available to homeschooling families, it's important to seek out a curriculum created by experts. Homeschool+ features My Reading Academy™, which was researched and created by literacy experts.
My Reading Academy provides your child with a comprehensive approach to reading and addresses every element of complete reading instruction, including word reading skills and text comprehension strategies. As an adaptive program, it matches your child's current reading level with material and activities that best meet their needs and encourage growth.
Home educators will also appreciate the unique Progress Tracker that illustrates the skills your child has mastered and what they need more work on. With a quality homeschool reading curriculum that captures your child's skills, you can feel confident that your young reader is meeting their goals.
What Reading Skills Can My Child Learn with the Homeschool+ Curriculum?
A well-rounded homeschool language arts program has a comprehensive reading curriculum at its core. My Reading Academy uses adaptive technology to tailor the learning experience to your reader's current level while guiding them towards fluency.
Your child will enjoy an interactive platform, just-right books, educational games, and so much more. These engaging activities help breathe life into the learning process and can make your child feel excited to read and continue their journey with My Reading Academy.
Here are a few of the reading skills your child can learn with Homeschool+:
Letter Recognition
Identify and differentiate between letters
Recognize letter names and sounds
Phonemic Awareness
Understand and recognize different sounds
Connect sounds to letters and decode words
Vocabulary Building
Expand the range of words a child knows and uses
Learn the correct usage of words in a sentence
Reading Fluency and Comprehension
Grow the capacity to read text accurately and quickly
Understand and interpret what's read
Preschool Reading Curriculum
Your child embarks on their journey of letter recognition and understanding print when they start preschool. It's during this period that they begin to establish the connection between letter sounds and word formation. Encouraging this inquisitiveness, coupled with reading to your child, can provide a strong foundation for their success. This effort is directed towards helping them eventually read independently.
Our preschool reading curriculum introduces a variety of concepts. Here's a glimpse at what your child can learn:
Practicing letters and sounds
Recognizing if word pairs rhyme
Identifying missing letters in words
Answering questions about a variety of fiction books
Concepts Such As:
Kindergarten Reading Curriculum
At this point in a child's reading progression, they've acquired the fundamental abilities to engage in the beginning forms of reading. Guiding children to shift from working with single letters and words to independently reading full texts can seem daunting. However, with an effective reading curriculum such as My Reading Academy, this transition can become less complicated for young readers and the home educators guiding them through the process.
Our kindergarten reading curriculum supports your child in learning many key reading concepts, including the following:
Advanced practice with sight words
Identifying facts from a nonfiction book read independently
Retelling events in a fiction book
Practice tracing uppercase and lowercase letters
Concepts Such As:
1st Grade Reading Curriculum
As your child evolves into an independent reader, they may become more confident due to their newfound ability to decipher the written world around them. Building upon the foundation they've already established, they will continue to advance with a number of new reading skills.
Our first grade reading curriculum helps to encourage those new skills along with the following:
Long vowels and less common spellings
General academic and subject-specific vocabulary
Reading strategies that can be applied to a variety of genres
Building background knowledge through nonfiction reading collections
Concepts Such As:
2nd Grade Reading Curriculum
Readers in this phase work to integrate a full toolbox of skills and strategies to make meaning of increasingly complex words and texts. By enhancing their skills with My Reading Academy, your child can expand their worldview through a variety of engaging and intellectually stimulating stories.
Here are a few of the many key concepts included in our second-grade reading curriculum:
Use visualization to better understand key ideas and details of a text
Differentiate key details from less important details in a nonfiction text
Infer by combining details as a reading strategy to comprehend a text
Use common text features to locate important facts or information in a text
Concepts Such As: