2nd Grade Curriculum
Your Homeschool, Your Way™. From the creators of ABCmouse®.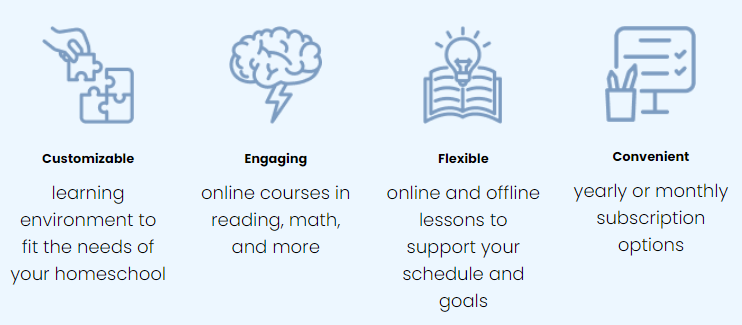 A 2nd Grade Homeschool Curriculum That Can Support Your Goals
Our second-grade homeschool curriculum is an engaging curriculum that's designed to encourage educational growth in an engaging and supportive way. With exciting lessons, games, and interactive video content, the Homeschool+ curriculum offers a structured yet flexible learning experience that sparks curiosity, fosters growth, and provides a solid foundation for your child's educational journey.
At this critical stage of development, second graders are often eager to explore the world around them and dive deeper into their studies. Our curriculum embraces their natural curiosity and provides a wide range of captivating subjects and activities that will help keep them excited and motivated to learn.
Flexibility is one of the key features of our second-grade curriculum. We understand that every child is unique and may have different learning preferences. Our curriculum allows for customization, enabling you to tailor the lessons to meet your child's specific needs. Whether your child excels in certain subjects and requires additional challenges or needs extra support in certain areas, the Homeschool+ curriculum offers many opportunities to create a personalized learning path.
What Skills Can My Second Grader Learn with the Homeschool+ Curriculum?
Our team of experienced educators and curriculum specialists has carefully crafted a curriculum that covers essential subjects, including language arts, mathematics, reading, science, social studies, and more. Each subject is thoughtfully organized into engaging lessons and enriched with hands-on activities, interactive exercises, and multimedia resources to ensure a well-rounded learning experience. Our curriculum also includes offline activities that are easy to prep and execute.
Here is a look at some of the important skills that our curriculum is designed to teach your 2nd grader:
Language and Literacy Development
Phonics and decoding skills
Comprehension strategies for understanding texts
Numeracy and Mathematical Concepts
Addition and subtraction with two-digit numbers
Problem-solving skills in real-life scenarios
Written and Oral Communication Skills
Vocabulary expansion
Expressing ideas through diverse types of writing
Creative Exploration and Expression
Color mixing and dimension
Music appreciation and exploration
2nd Grade Reading Curriculum
Our second-grade curriculum continues to prioritize the development of early reading skills. Our program, My Reading Academy™, is designed to foster a love for reading and learning by providing a wide range of engaging reading materials. Our digital library gives students access to interactive books and resources that support their journey in mastering foundational reading skills.
Our curriculum is personalized, catering to each child's unique needs and helping them build a solid foundation in reading, comprehension, and fluency. With adaptive technology, students progress at their own pace, encountering appropriate challenges that can lead to optimal learning outcomes and a genuine love for books.
My Reading Academy explores many key reading topics. Here are a few of the skills your second grader will learn:
Answering questions about fiction and nonfiction books independently
Identifying and understanding the topic of a text
Differentiating between important details and less important details in a nonfiction text
Asking and answering questions about characters and events in a story
Generating questions about various topics and informational books
Concepts Such As:
2nd Grade Language Arts
Our second-grade language arts curriculum rounds out our extensive reading and writing curriculum. Your child will develop their reading, listening comprehension, and written expression skills while working towards understanding the fundamental rules of grammar and writing. Our engaging lessons invite your child to explore the English language on a deeper level, develop a more nuanced understanding of the language, and become a better writer. Our language arts curriculum aims to bolster your child's understanding of grammar and writing concepts and give them the skills to become effective writers and communicators.
As children transition from first to second grade, their language arts skills continue to develop and flourish. During this time, they build upon the solid foundation laid in earlier grades and further refine their reading, writing, speaking, and listening abilities. Our program focuses on strengthening essential language arts components such as reading comprehension, writing and grammar, phonics and word recognition, listening and speaking skills, and vocabulary development.
Here are a few key concepts of our second-grade language arts curriculum:
Parts of speech and sentence structure
Descriptive language and writing skills
Grammar rules and reasoning
Various styles and genres of writing
Increased reading comprehension
Lessons Such As:
2nd Grade Math Curriculum
My Math Academy® makes learning fun! Our game-based approach helps children master 2nd-grade math concepts with interactive digital math manipulatives. With real-time feedback, My Math Academy adapts to each learner, creating a customized Learning Pathway by continually assessing what your child knows and doesn't know in each of these areas, ensuring that your child can demonstrate conceptual understanding. The program's unique Progress Tracker identifies the skills your child has truly mastered and provides detailed data on their accomplishments and challenges.
My Math Academy includes a variety of key math concepts. Here are a few examples of the topics your second grader will learn:
Measurements
Basic geometry
Patterns
Beginning data and graphing
Using algorithms with two- and three-digit numbers
Concepts Such As:
2nd Grade Science Curriculum
Our second-grade science curriculum will take your child through the process of active exploration and investigation. They will work on developing a deeper understanding of a range of fundamental scientific concepts, including states of matter, electric current, temperature, fluid pressure, molecules, sound waves, leverage, and more.
Our science course engages students through exciting animated series such as Escape from Fred and Professor Hester, making learning about the body's circulatory, digestive, and respiratory systems more fun and interactive.
Through hands-on experiments to interactive games that promote scientific thinking, our curriculum aims to promote a lifelong love of scientific learning and engagement.
Some of the key concepts covered in our second-grade science curriculum include:
Exploring systems of the human body
Learning about weather patterns, seasons, and climates
Conducting hands-on experiments
Developing scientific inquiry skills
Understanding ecosystems, habitats, and how to protect them
Lessons Such As:
2nd Grade Social Studies Curriculum
Our second-grade social studies curriculum will take children on a virtual journey around the world, where they encounter and study diverse cultures, traditions, and historic sites. This engaging course helps your child grow an appreciation for global diversity and a desire to learn and understand more about the world.
Our curriculum offers an enriching exploration of communities, cultures, and landmarks. Children work to understand distinct roles within a community, discover places in their community, and recognize their contributions to society. They also learn about the similarities and differences among communities by exploring aspects such as culture, language, food, and currency.
A few of the concepts covered in our second-grade social studies curriculum include:
Understanding roles, places, and diversity in communities
Exploring diverse cultures and important landmarks
Developing critical thinking skills through mapmaking and exploration
Map reading and learning features of continents, oceans, and US states
Lessons Such As:
2nd Grade Art (Colors & Shapes), Music, & Spanish Curriculum
In our second-grade art program, your child will embark on a vibrant journey of colors and shapes, unlocking their creativity to craft one-of-a-kind masterpieces. Join your child in the fun of exploring colors, hues, tints, and 2D and 3D shapes. Each online lesson includes offline, hands-on lessons that allow for further exploration.
The Homeschool+ second-grade music curriculum will enchant your child with the captivating realm of music as they explore rhythmic beats, melodic harmonies, and even gain a basic understanding of how to play piano, complete with recitals to show off their skills. Our music curriculum provides your child with an opportunity to embrace the magic of music and appreciate its profound impact.
Our second-grade Spanish curriculum takes your child on an exciting adventure into exploring the Spanish language. Through engaging activities and videos, and interactive lessons, they will uncover new words and useful phrases that form the basis for learning a new language. Our Spanish curriculum helps your child learn proper pronunciation and context to further develop their understanding of the Spanish language.